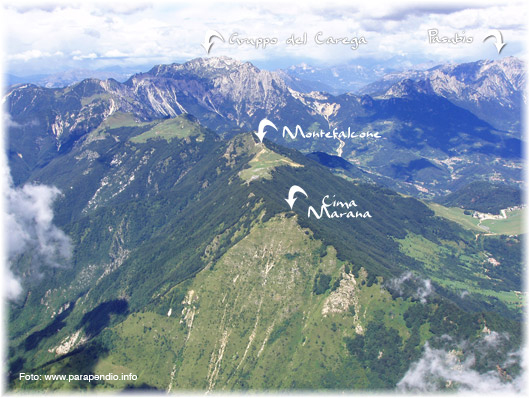 Domenica 27 Luglio 2014
Recoaro Terme
Montefalcone Downhill Race
La prima gara trail di sola discesa, un evento per gli specialisti che vogliono dimostrare la loro capacità tecnica, per quelli che vogliono sgranchirsi le gambe dopo le fatiche della Ultra e della Marathon, o più semplicemente per chi vuole provare una nuova divertente specialità.
Partenza dalla cima di Montefalcone, quota 1.620 m, in batterie scaglionate ogni quindici secondi, discesa sulle tracce della pista fino a Recoaro Mille, tratto in falsopiano e seconda picchiata nel bosco fino a Recoaro Terme, quota 445 m., classifica finale unica.
8 km per 1.200 mD- di pura adrenalina
Sunday 27 July 2014
Recoaro Terme
Montefalcone Downhill Race
The first only downhill trail race, an event for the specialists to demonstrate their technical skills, for those who want to cool off after the Ultra and the Marathon, or simply for all who want to try something exciting and new
Start from the top of Montefalcone at 1.620 m, in groups every fifteen seconds, downhill course along the ski slope, short up and down break and second downhill part in the woods down to Recoaro Terme at 445 m, one general final ranking
8 km on 1200 m downhill of full adrenaline
PROGRAMMA - PROGRAM
Domenica 27 luglio 2014 - Sunday 27 july 2014
Recoaro Terme, Piazza Amedeo di Savoia
ore 7.30 - 8.30 distribuzione pettorali - bib distribution
ore 8.30 - 9.30 imbarco su cabinovia per Recoaro Mille e successivo trasferimento su seggiovia per Montefalcone - boarding cableway to Recoaro Mille and transfer to chairlift to Montefalcone.
i concorrenti dovranno scendere a piedi dall'arrivo della seggiovia allo start, circa 400 mt.
Competitors may walk down from chairlift arrival to the start, approx 400 mt.
Montefalcone - Sella del Campetto
ore 11.00 Start Montefalcone Dowhnill Race
Pizzegoro - Reoaro 1000
ore 11.15 passaggio primi concorrenti - top athletes passage
Recoaro Terme, via Lelia
ore 11.30 arrivo previsto primi concorrenti - top athletes finish
ore 13.00 chiusura percorso - racecourse closing
Recoaro Terme, Piazza Amedeo di Savoia
dalle ore 11.30 ristoro - refreshment
ore 13.00 premiazioni - prizegiving